Back to top
Back to top
Convertible Notes at $15MM Valuation Cap; 10% discount rate on first $100,000.00 invested and 20% discount rate for all investment amounts thereafter. Terms are subject to the full offering documents.
esc Aerospace US Inc Business Plan
Reviewed Statements - esc Aerospace US, Inc.
Link to SEC EDGAR Database:
PROBLEM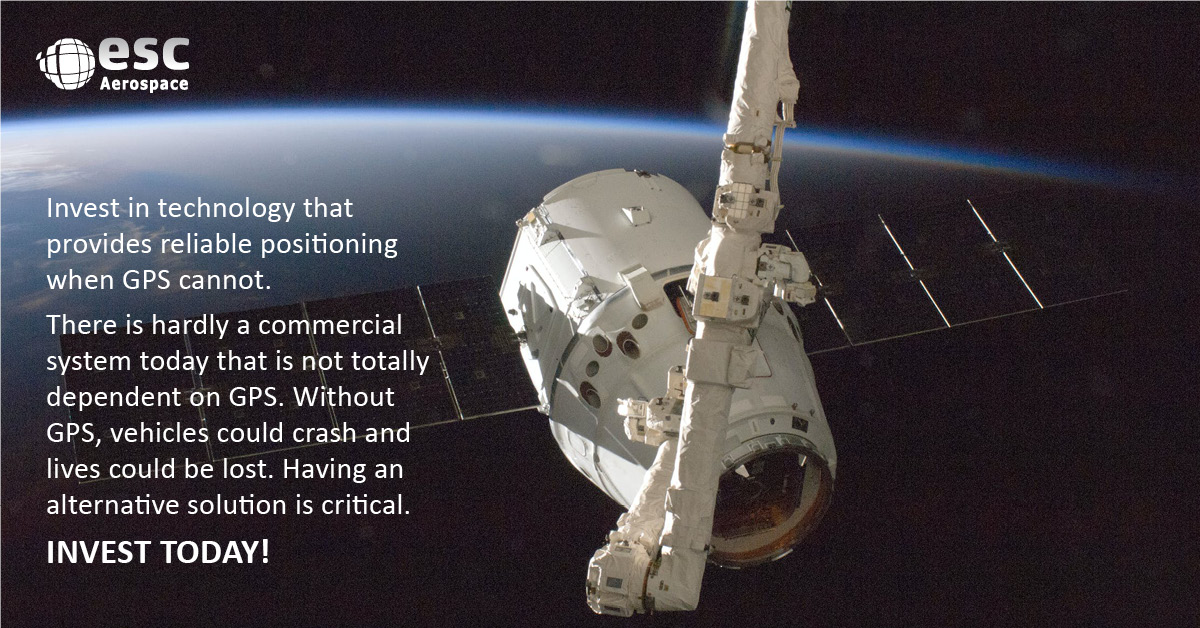 Advances in technology have become such an integral part of day-to-day lives that it can be unbearable to imagine a failure or loss of access to any of it. This reliance on a technology is especially true when it comes to Global Navigation Satellite Systems (GNSS) like GPS.
Over fifty years ago, who knew how pervasive GPS would become? From natural interferences to growing terrorist threats, our total dependence on GPS is problematic. There is hardly a military or commercial system today that is not totally dependent on GPS. Without it, financial systems may fail, autonomous vehicles might crash, military missions could fail, and lives could be lost. Having an alternative solution is crucial.
SOLUTION
Though there are products that attempt to solve parts of the problem, they tend to focus on a narrow applications, and tend to be very large, heavy, and expensive, making them impossible for utilization on systems like small unmanned aircrafts, dismounted soldiers, and other small mobile platforms.
escPNT™ – our solution that provides positioning, navigation, and timing (PNT) when GPS cannot – focuses on:
Multiple sensor and technology integration for flexibility, resiliency, and accuracy.

Low Size, Weight, Power and Cost (SWaP-C) to enable use on small mobile platforms such as small UAS, soldier, precision weapons, other autonomous vehicles, future personal use, and more.

Use of Signals of Opportunity (SoOP), specifically from non-positioning satellites (non-GPS, or non-GNSS), including low-earth orbit (LEO) satellites such as Iridium, amateur satellites, search and rescue satellites, and new mega-constellations like Starlink and OneWeb, as an alternative for positioning.

Utilization of a software-defined radio (SDR) that does not require the use of a proprietary receiver, and does not use message data, eliminating the need to purchase a service and hardware from the satellite operator.

A chip scale Ultra Low-Power Timing Circuit to maximize accuracy and sustain hold-over time without the need for additional power (battery).

Application of Artificial Intelligence (AI) and Machine Learning (ML) for increased accuracy and expanded capability
OPPORTUNITY
The low size, weight, power, and cost of our solution, combined with our unique technical features, discriminates our solution and enables us to reach huge and growing markets. Our go-to market strategy includes direct sales of product and integration services the DOD, and other government agencies. Software and product licensing to channel partners will accelerate access to commercial markets and grow returns.
We continue to leverage DOD and other government agency small business initiatives to fund product development and have successfully delivered prototype systems to the Air Force and Army under SBIR contracts. Transition from these prototypes to operational systems requires additional investment but will yield exponential sales growth.
Our competitors (legacy military navigation, companies and new market entrants for PNT in GPS denial) typically focus on a single technology – like vision systems, inertial systems, terrestrial transmitters, and others – to solve the problem of GPS denial. This tends to limit their utility across various use cases. esc Aerospace US, Inc. focuses on integration of multiple sensors and technologies for applicability across a much larger set of uses. At the same time our solutions are low SWaP-C (Size, Weight, Power, Cost) and do not require any subscriptions or proprietary receiver hardware.
esc Aerospace's internal market analysis, as well as a detailed market analysis performed by an independent consultant shows tremendous growth potential and a current multibillion-dollar market. As an example, the global location-based services market is valued at greater than $20B and is expected to reach greater than $133B by 2023.
We also set a goal to raise significant revenue within five years, while remaining investor-free. Recent successes and being approached by a number of investors has caused us to update our strategy and projections. With investment, we plan to grow to >$150M by 2027. *see Note regarding forward looking statements
TRACTION
Annual revenue is approaching $1M and we've been cash flow positive from day 1. We received a NIST (National Institute of Standards and Technology) grant before we had a company bank account.

First Department of Defense contract was awarded a few weeks after incorporation, and we have had multiple development contracts with the US Air Force and US Army since; as well as commercial sales to companies like Ford Motor Company.

Our most recent award was from an US Air Force contract for our Ultra-low Power Timing Circuit (escULP-TCTM) that bridges the gap between Chip-Scale Atomic Clocks (CSAC) and commercial Chrystal Oscillators (XO).

We do not have any debt/loans with external lenders.

Total cash on hand: $50,000

Total revenue to date: $1,800,000

Total existing debt amount: $150,000

Total founder(s) contribution: $150,000
TEAM
The co-founders of esc Aerospace are engineers, business leaders, entrepreneurs … "business builders." Decades of experience working for leading technology providers, such as Lockheed Martin and Airbus, provides a rock-solid foundation for esc Aerospace success.
President and CEO, Lars Weimer, has a Master of Science in Aviation and Aerospace Engineering. He is a highly experienced and dynamic aerospace manager, with a vast background of skills and experience in research and leadership of technical and non-technical teams. He has driven the successful start and early growth phase of tech companies in the US and Europe. His professional experience includes aerospace and defense research and development projects with several commercial entities as well as the European Space Agency (ESA), US Air Force and US Army. Lars has more than 20 years of demonstrated achievements in all space and aviation system life cycle phases.
Executive Vice President, Danny Stirtz, has over 40 years of experience in systems development and commercialization. He has successfully launched a number of small businesses as well as worked at all levels of large and small organizations from individual contributor/programmer to senior staff positions at companies like Lockheed Martin, Hughes Aircraft Company, Northrop Electronics, GE Aerospace, and Beckman Instruments. His development experience has included Astro Inertial Navigation Systems (SR-71), GPS space and ground segments, MILSTAR ground segment, Second TDRSS Ground Station (STGT), visualization/mapping systems (classified), and other related technology areas.
Mathias Krueger – Member of the Board of Directors – Mathias is a serial entrepreneur and investor. Successfully founded, grew, and sold companies in more than five countries. He is one of the three founders of esc Aerospace US, Inc. and serves on the Board of Directors.
Other key staff includes:
Cantwell Carson – Senior System Engineer - Dr. Carson has worked on over 20 government-funded research and development projects in academia, national labs, and the private sector. His Ph.D. in Materials Science & Engineering was awarded from Georgia Institute of Technology in 2009. Cantwell was Principal Investigator for the AF182-002 "Satellite ID, Tracking, and Health for Position Navigation and Timing" contract where he developed a method of determining positions of LEO satellites for PNT. As Technical Lead of AF 1917 Small Business Innovation Research (SBIR) "Satellite Identification, Tracking, and Health" he developed a low cost, passive satellite tracking system based on RF signal time-of-flight, and Doppler shift.
Edward Seger – Senior Development Lead - Mr. Seger is a highly capable and experienced developer with over 20 years of experience in FPGA and hardware development. His experience includes development of the radio front-end/FPGA for the escPNTTM LEO SOOP project with the Air Force. His experience design and development of next generation analog acquisition hardware, signal processing applications using FPGAs and microprocessors, multiplatform system test software suite development. His experience ranges across multiple recognized commercial developers as well as the NSA where he optimized signal processing software and invented a disk sanitizer capability to declassify disk drives for use outside the agency (received the Directors Productivity Improvement Award). Mr. Seger has a BS-EE from Capitol College, Laurel MD.
EXIT
Time frame for exit: The current owners of esc Aerospace US, Inc. plan to exit in approximately 5 years (2027).
Form of exit: It is anticipated that the exit may be in the form of majority or complete ownership sale, and/or sale of specific technology like escPNTTM and/or ULP-TC. The current Corporate Officers are open to potential on-going employment in support of the new ownership.
Potential Buyers: We anticipate potential buyers to be:

Other larger product companies in the Guidance Navigation and Control (GNC) space
Large government contractors
Portfolio investment companies
We have already been building relationships with many potential buyers as teaming partners, and suppliers.
---
Note regarding forward looking statements
THE INFORMATION SET FORTH HEREIN CONTAINS "FORWARD-LOOKING INFORMATION", INCLUDING "FUTURE-ORIENTED FINANCIAL INFORMATION" AND "FINANCIAL OUTLOOK", UNDER APPLICABLE SECURITIES LAWS (COLLECTIVELY REFERRED TO HEREIN AS FORWARD-LOOKING STATEMENTS). EXCEPT FOR STATEMENTS OF HISTORICAL FACT, THE INFORMATION CONTAINED HEREIN CONSTITUTES FORWARD-LOOKING STATEMENTS AND INCLUDES, BUT IS NOT LIMITED TO, THE (I) PROJECTED FINANCIAL PERFORMANCE OF THE COMPANY; (II) COMPLETION OF, AND THE USE OF PROCEEDS FROM, THE SALE OF THE SHARES BEING OFFERED HEREUNDER; (III) THE EXPECTED DEVELOPMENT OF THE COMPANY'S BUSINESS, PROJECTS, AND JOINT VENTURES; (IV) EXECUTION OF THE COMPANY'S VISION AND GROWTH STRATEGY, INCLUDING WITH RESPECT TO FUTURE M&A ACTIVITY AND GLOBAL GROWTH; (V) SOURCES AND AVAILABILITY OF THIRD-PARTY FINANCING FOR THE COMPANY'S PROJECTS; (VI) COMPLETION OF THE COMPANY'S PROJECTS THAT ARE CURRENTLY UNDERWAY, IN DEVELOPMENT OR OTHERWISE UNDER CONSIDERATION; (VI) RENEWAL OF THE COMPANY'S CURRENT CUSTOMER, SUPPLIER AND OTHER MATERIAL AGREEMENTS; AND (VII) FUTURE LIQUIDITY, WORKING CAPITAL, AND CAPITAL REQUIREMENTS. FORWARD-LOOKING STATEMENTS ARE PROVIDED TO ALLOW POTENTIAL INVESTORS THE OPPORTUNITY TO UNDERSTAND MANAGEMENT'S BELIEFS AND OPINIONS IN RESPECT OF THE FUTURE SO THAT THEY MAY USE SUCH BELIEFS AND OPINIONS AS ONE FACTOR IN EVALUATING AN INVESTMENT.

THESE STATEMENTS ARE NOT GUARANTEES OF FUTURE PERFORMANCE AND UNDUE RELIANCE SHOULD NOT BE PLACED ON THEM. SUCH FORWARD-LOOKING STATEMENTS NECESSARILY INVOLVE KNOWN AND UNKNOWN RISKS AND UNCERTAINTIES, WHICH MAY CAUSE ACTUAL PERFORMANCE AND FINANCIAL RESULTS IN FUTURE PERIODS TO DIFFER MATERIALLY FROM ANY PROJECTIONS OF FUTURE PERFORMANCE OR RESULT EXPRESSED OR IMPLIED BY SUCH FORWARD-LOOKING STATEMENTS.

ALTHOUGH FORWARD-LOOKING STATEMENTS CONTAINED IN THIS PRESENTATION ARE BASED UPON WHAT MANAGEMENT OF THE COMPANY BELIEVES ARE REASONABLE ASSUMPTIONS, THERE CAN BE NO ASSURANCE THAT FORWARD-LOOKING STATEMENTS WILL PROVE TO BE ACCURATE, AS ACTUAL RESULTS AND FUTURE EVENTS COULD DIFFER MATERIALLY FROM THOSE ANTICIPATED IN SUCH STATEMENTS. THE COMPANY UNDERTAKES NO OBLIGATION TO UPDATE FORWARD-LOOKING STATEMENTS IF CIRCUMSTANCES OR MANAGEMENT'S ESTIMATES OR OPINIONS SHOULD CHANGE EXCEPT AS REQUIRED BY APPLICABLE SECURITIES LAWS. THE READER IS CAUTIONED NOT TO PLACE UNDUE RELIANCE ON FORWARD-LOOKING STATEMENTS.
---
You can also invest in this offering using the Silicon Prairie Online Mobile App. Scan the QR code below to Download the App!